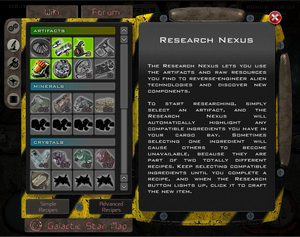 The Research Nexus lets you use the artifacts and raw resources you find to reverse-engineer alien technologies and discover new components.
To start researching, simply select an artifact, and the Research Nexus will automatically highlight any compatible ingredients you have in your cargo bay. Sometimes selecting one ingredient will cause others to become unavailable because they are part of two totally different recipes. Keep selecting compatible ingredients until you complete a recipe. And when the research button lights up, click it to craft the new item.
You will need the various recipies to Upgrade your craft. Upgrades
Artifacts
Edit
There are a total of eight different artifacts, these can be found in chests on the various planets.
Each artifact is used in eight simple recipes and four advanced recipes. Alll recipes require only 1 of each ingredient to research, regardless of how many of that ingredient are used to craft normally.
Simple Recipes
Edit
These only require 2 to 4 different mineable materials and 1 artifact to research.
Advanced Recipes
Edit
These require 4 different finished Simple Recipies and 2 artifacts to research.
Home | Engineering Bay | Research Nexus | Manufacturing Bay | Cargo Bay | Personal Logs | Quests | Boosts