Bacteria is found in the spit of a hanging worm creature. This creature is very territorial and will spit out at anything that comes near it.
The simplest way to collect bacteria is to get hit by a spitter. Once hit you will continually gain small quantity of bacteria and take damage, until you return to the shuttle. You can drill into the base of the spitter to destroy it and gain a moderate amount of bacteria in a safe way, but the creature has bony plates protecting it, and is only vulnerable from directly above.
Usefulness
Edit
Crafting material
Can be found at:
Edit
Aerial Planet: 0-250 altitude
Aquatic Planet: 110-250 depth
Find Bacteria in the projectile attack of a hanging worm creature or kill the hanging worm creature
This is what bacteria creature look like                                  you will also get some bacteria from his shot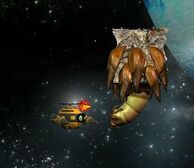 Ad blocker interference detected!
Wikia is a free-to-use site that makes money from advertising. We have a modified experience for viewers using ad blockers

Wikia is not accessible if you've made further modifications. Remove the custom ad blocker rule(s) and the page will load as expected.